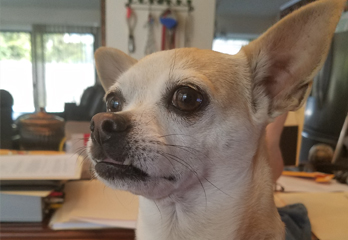 BELLA THE CHIHUAHUA | Office Mascot
Bella received her education as a stray on Dixie Highway in Ft. Lauderdale. She was extremely ill and required extensive veterinary care to survive.  Bella was initially resistant to join the team but came to realize that Three Griffins offered her the ability to use her street-smarts in a fast-paced, professional environment.
Bella's expertise is primarily in the areas of napping and begging for treats.  She is particularly adept at interrupting the activities of her human counterparts, relieving their stress and anxiety.